Each Heavy Duty Magnetic Sign panel is 12 in. x 24 in.
(Other custom sizes and shapes available upon request)
Ready to apply to any Smooth Clean Metal Surface
Use them on your Auto, Truck or Van, in Your Shop, Garage or on Any Make, Model Vehicle, Trailer or RV.
* Our SIGNS are Digitally Airbrushed and Smooth, Precision Machine Cut. * Weather and Water proof for many years from High Performance Premium products. * Prints will be UV Laminated for Extended Life
A Standard Logo design can be supplied by us. We have Logos for all types of businesses. We can also print from your (.jpg or .eps file). When we receive your information a proof will be made within 1-3 business days and emailed to you for approval before printing."NO" Design Proofs will be done before Item has been paid for in "FULL".
We will our very best to assure your satisfaction!
Please email us with info needed on your signs and forward any pics you may want to add. If you would like to PHONE us 973-575-0082 or FAX: 973-575-7136.
*** Once we receive your info we will be emailing you proofs to view and approve before starting the job.
STAND OUT ABOVE THE REST !
Our Years of experience in the advertising field gives "YOU" the Edge. Blow the competition out of the water!
Promote Your Services Everyday to Potential Customers!
LOOK TO THE RIGHT TO SEE ARE ACCOUNTS ACROSS THE U.S.A. ->>
Artistic Signs * 122 Clinton Road * Fairfield, NJ * USA * 07004
Office: 973-575-0082

Here are just a few samples!
We have hundreds of stock Logo's if you don't have your own.
"NO EXTRA CHARGE" for stock logo's.
A small extra fee may apply if your logo is intricate.
We can also add photo's or create photo signs.
PURCHASE (2) matching Magnetic Signs each 12" x 24".

$59.99 + $9.95 shipping USPS 2-3 day Priority Boxed service.

*** Once we receive your info we will be emailing you proofs to view and approve before starting the job.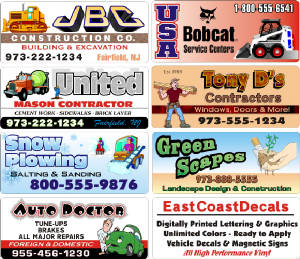 SEE OUR NEW WEBISTE CLICK IMAGE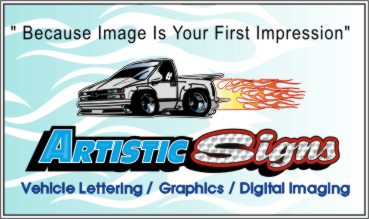 CLICK IMAGE TO ALSO MAKE A PAYMENT AT OUR NEW SITE
http://cc.msnscache.com/cache.aspx?q=4158624273912&lang=en-US&mkt=en-US&FORM=CVRE
New Jersey signs, New Jersey Logo Design, New Jersey Vehicle GraphicsTake a look around, and don't hesitate to contact us regarding a quote or anything else we might be able to help you with.

New Jersey Vehicle Graphics, NJ Car Lettering, New Jersey car wraps,
are an exeptional way to relay a message or advertise your company wherever you go. Capitalizing on the visibility of a NJ vehicle is a strategic way to gain customer recognition as well as present a positive image to existing and potential clients.

New Jersey Dimensional Signs reflect a rich distinctive characteristic. Wether it be Sandblasted, Carved, or Dimensional Letters, the addition of depth to a design gives a dramatic effect and leaves a lasting impression.

NJ Identity Signs are used to advertise New Developments, Entrances, or can be Informative or Directional tools. Existing NJ customer logos can be reproduced and incorporated into designs to let customers know what your latest project is and/or how to obtain information. If you choose, we will design an Identity Sign for you or your company so you're sure not missed by potential clients.

Illuminated New Jersey Signs, consisting of Lighted Boxes, New Jersey Neon Signs, Channel Neon Letters, or Lighted Awnings are attention grabbing advertising tools in New Jersey. A unique sign design portrayed in an illuminated fashion creates visibility any time of the day. Additions to store fronts, as simple as even just the installation of neon borders, is a great way to draw attention to any business.

We offer New Jersey logo design to our customers to help create individuality and recognition. Our designs range from single color corporate logos to multi-color logo designs to fit virtually any business need. Our designers will help you obtain the image you desire. New Jersey SignsThe Signs nj. offers many types of signs including NJ banners, magnetics, neon signs, vehicles, NJ digital graphics, and many other sign related services. The list below contains contact information of our shop that provide New Jersey Signs.
Show your sponsors you care by highlighting their name or logo on full-color, weather-resistant sponsorship signs from Artistic Signs nj. Place them on the tee box, fairway, or green: the more, the merrier. All signs can be customized to fit your needs. And if you don't see a particular sign you need, just ask and we'll make it for you!
The NJ Sign Company, Inc. Fairfield New Jersey Signs. new Jersey Logo Design.New Jersey Vehicle Graphics. New Jersey Signs. Waterford NJ Signs. NJ Dimensional Signs. New Jersey Neon Signs. New Jersey Car Lettering. Signs nj Company