Auto Wraps & Window Graphics
Vehicle & Window Graphic Wraps Benefit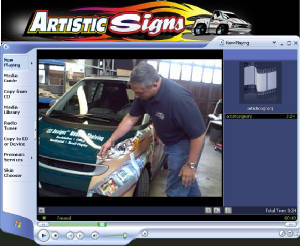 Rent Free Advertisement: Since wraps are applied on company or personal vehicles and Store fronts customers do not have to pay any rent for this billboard like advertisement. In comparison, customers have to pay thousands of dollars for running their ads on city Billboards, Radio or TV commercials. In this way, Fleet Graphics and Vehicle Wraps provide a FREE mobile advertising. Customers still pay for the initial graphics but since these graphics last for about 3 to 4 years, the cost per month is only about $100 over a period of 36 to 48 months.
Car wrap advertising reaches qualified buyers along delivery routes
Creates a powerful "referral" effect
Graphics can be tailored to demographics
Creates a positive impression with vehicle wrap advertising
May help prolong a vehicle's life
Materials
We use All High Performance material from Avery, Oracal &
3M™ Controltac™ Plus Graphic Film with Comply™ Adhesive (IJ180C-10 or equivalent)
. This material is a superior quality 2 mil, opaque film for long-term graphics. The film has pressure-activated adhesive and 3M Comply™ Performance for easier installation of car decals, car wraps and fleet graphics. The material is laminated with a solid overlaminate, 3M™ Scotchcal™ Luster Overlaminate (8519 or equivalent). The solid overlaminate in general provides better protection than liquid overlaminates. The laminate protects the graphics against ultraviolet rays from the sun and also resists scratching.
We also use perforated window film for providing window decals and graphics for rear and back windows of retail shops / vehicles. This film allows a full image to be seen on the outside of a window while allowing viewing through windows from the inside. Since water droplets reduce the clarity of this film, it is highly recommended to laminate this window film for clarity in rainy situations.
Removal
With hi-tech digital print media removal of graphics is very easy. In most cases, all it takes is a gentle application of heat to soften the adhesive and the graphics are easily pulled away from the surface. Any remaining adhesive on the surface is cleaned up using regular automotive cleaners. In fact, with the newly available removable and changeable graphic materials the removal process does not even need any heat or chemical cleanup.
Car Wraps - Generate Millions of Advertising Impressions
Many companies are finding out that vehicle wraps and full color fleet and car graphics are a great way to reach new and existing customers. Compared to other forms of media, wraps are extremely cost effective and generate millions of impressions each year.
At Arbitron, Inc., studies show that more than 95% of Americans travel by car each week, creating a mass audience for your advertising. Branding your business is simplified, considering that 1 wrap can generate between 30,000 – 70,000 impressions each day! Vehicle wraps are now being recognized as an extremely cost effective and unique form of outdoor media for all sizes of businesses and company promotions.
Vehicle wraps are like giant billboards, only more creative, and they move in the area your company services. They work 24 hours a day, generating awareness for your company and are constantly reaching new and potential customers.
All of our vehicle wraps are durable, washable, removable and they won't damage your vehicles factory paint. Expose your business to THOUSANDS of potential customers EVERYDAY with a vehicle wrap by Artistic Signs!

Enter content here
Enter content here
Enter content here